Tipping Point Stocks: 
"Finding the next big market winners"
---
A publication of The Market Analysts Group, LLC , publishers of  Stockreversals.com  and Stockreversalspremium.com
57,000 Traders follow our Chief Strategist on Stocktwits.com @stockreversals
Recent 47% Gainer in two weeks on a TPS Buy report on OSTK (Overstock)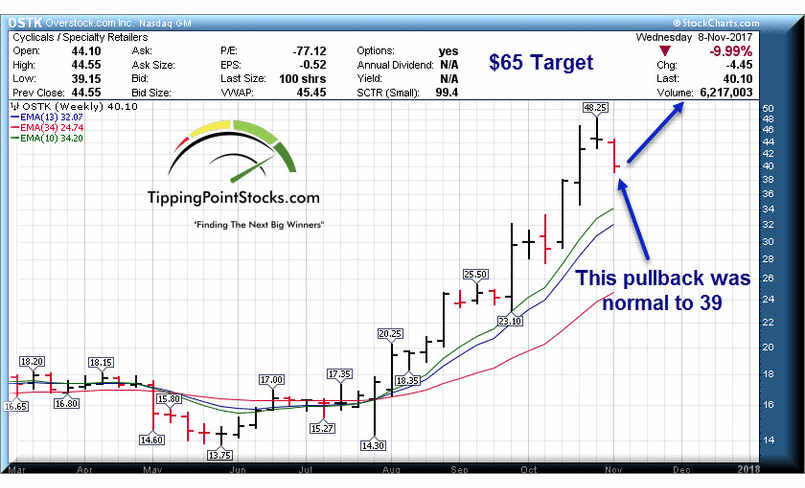 ---
A Tipping Point Stock is an emerging growth company that perhaps recently went public, or is a company that is moving into fast growth sectors of technology or other areas of high growth.  A company that is on the cusp of a major trend and or domination of a category or niche, but not yet discovered by most investors or the media.
We look to discover and report on and recommend those companies that are on the verge of a tipping point in both growth and investor recognition. Our goal is to enter these stocks and hold them for 9-18 months prior to the public becoming fully aware of their dynamics and potential.  The preference is to be early to the story that is emerging and not chasing it after the stock has already had a huge run.
CDXC up 112%, STRP up 600%, TTD up 144%, BLUE up 500%, just samples of TPS stocks  we have discovered early and shared reports with the public and subscribers.
Chromadex up 112% in 5 1/2 months from May 30th Report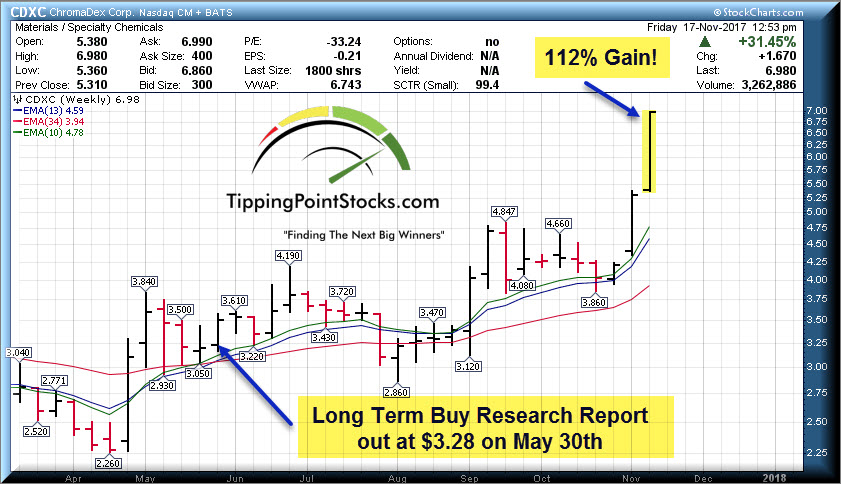 ---
Exclusive Membership: limited to only 200 TPS Members
Developing an open and transparent portfolio of 15-20 stocks, companies that meet the Tipping Point Stocks requirements, one stock at a time with ongoing updates and advice until closed out
Aiming for 50%-200% appreciation on each position with expected holding periods of 9-18 months to reach objectives
A focus on fundamentals, share structure, management, products, competitiveness, balance sheet strength, profitability, a business moat, catalysts for appreciation, and more!
We read prospectuses, filings, conference call transcripts, contact executives directly and more to find the hidden gems and nuggets other investors are too lazy to discover.
---
---
Charter Membership Launch Rate for a limited time during early launch
Only $999 vs post launch $1,499! Save $500 or 33%
Launch your portfolio growth now and join today!
Our last two portfolio additions would have paid for 6.5 years of subscription just investing $10,000 into each one!
---
Recent  October 30th 2017 TPS Report on a Canadian company, already up 38% in two weeks: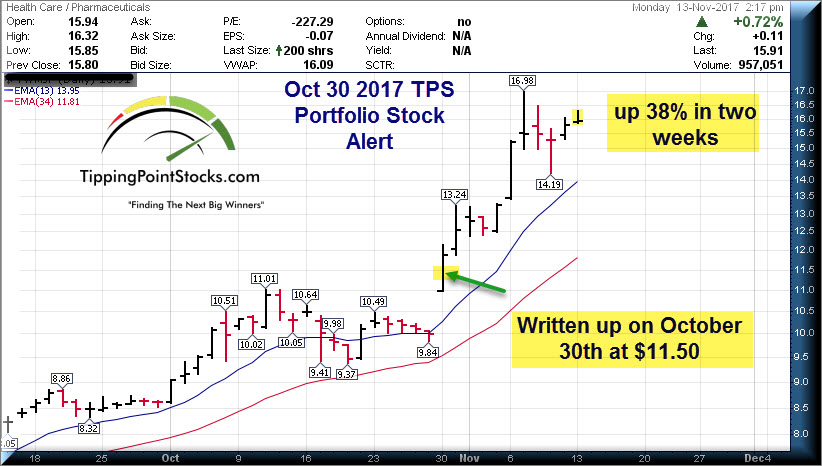 Samples of research we have provided to our subscribers and the public in Tipping Point Stocks include:
---
Straight Path Communications (STRP)–  We wrote up this spin off from IDT in July of 2015 when nobody had heard of them. They were holding 5G assets that we felt were undervalued like cheap real estate.  The company was the subject of a bidding war in May of 2017 and Verizon bought them out for $185 per share.  The report  was issued at $28 per share, resulting in a 600% Gain.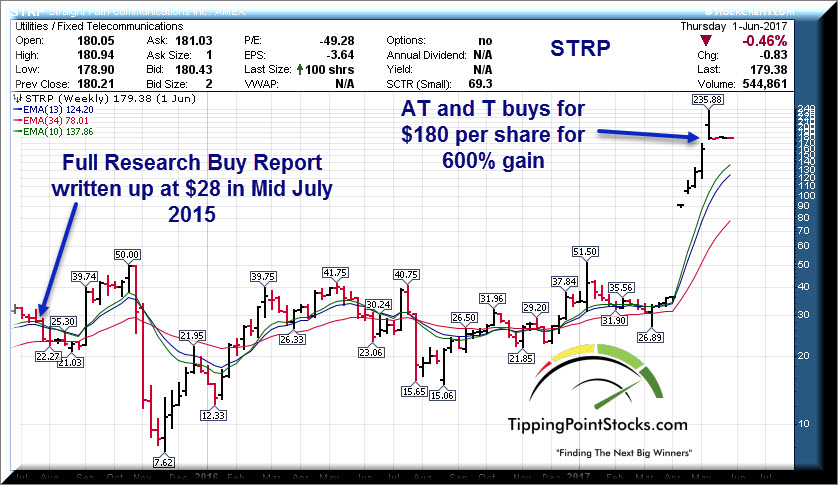 ---
Chromadex (CDXC)   We wrote a full report on CDXC which you can read  in our Sample Reports tab.  As of November 11th some 5.5 months later the stock is up 112% already.  We liked the fact that one of Asia's wealthiest investors was taking a large stake in the company and we felt he would push the product line into Asia under his beauty chains. We were right as this was announced about 5 months later and the stock pushed higher.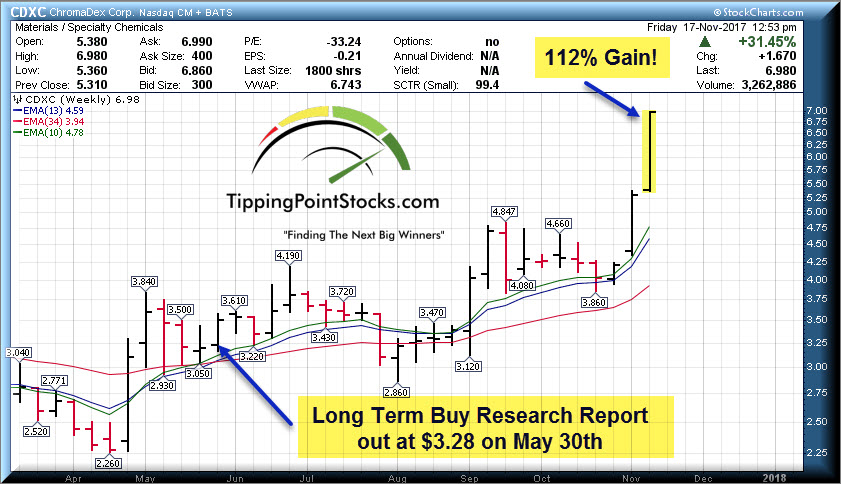 ---
The above are just a few samples of our research and this is what led our current Swing Trade subscribers at stockreversalspremium.com to urge us to work on more long term stock reports, hence the launch of TippingPointStocks.com
---