Samples of research we have provided to our subscribers and the public in Tipping Point Stocks include:
Recent Report: Up 213% in 9 weeks (Canopy Growth)
Canopy Growth (TWMJF or WEED.TO)  October 30th report at $11.50.  The stock reached a high  over $36 9 weeks later for a 213% gain. A $10,000 Position would have paid for 13 years of TPS subscription.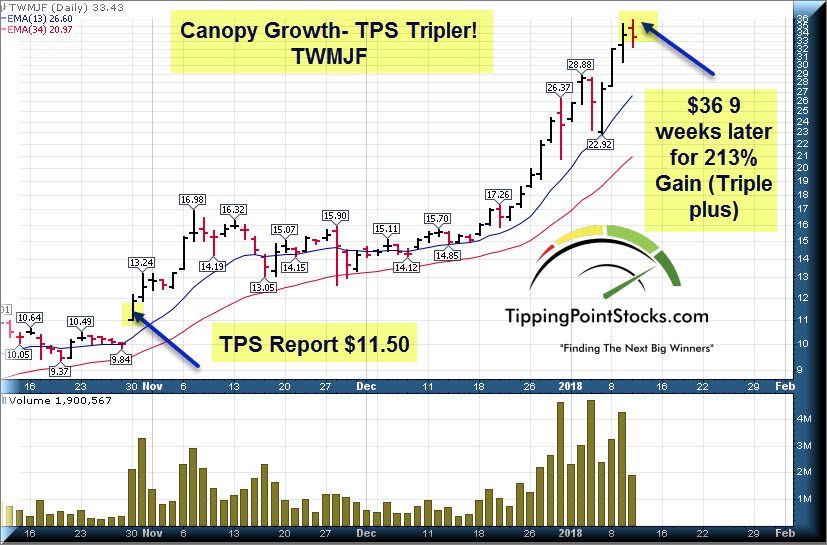 ---
104% Gain in 9 weeks!
Overstock.com (OSTK) November 8th Buy Report to TPS Members at $44. We put a $65 interim target on the shares, and 16 days later the stock hit $65.25 for a 47% gain.  A $10,000 position would have paid already for almost 7 years of subscription:  The stock hit $89.80 in January for 104% Gain!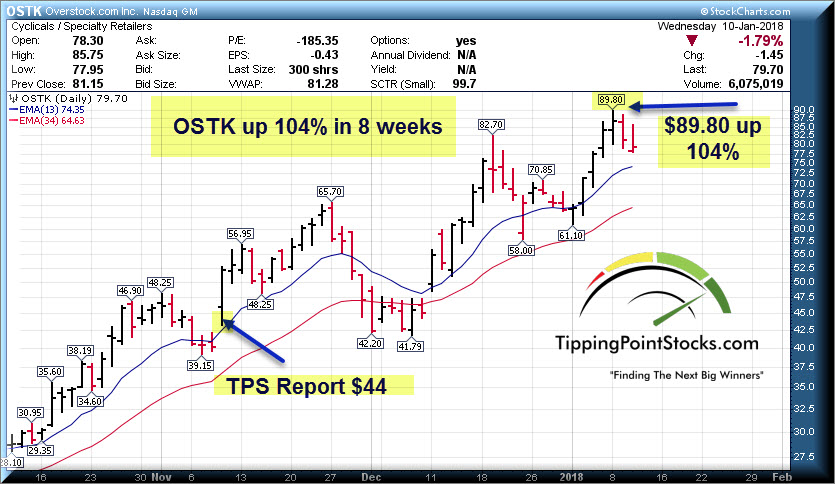 ---
Prior reports:
77%, 600%, 144%, 85% gainers!
Chromadex (CDXC)  Written up on May 30th 2017 at $3.28 per share.  We felt the investment at $2.60 by one of Asia's wealthiest billionaires was an eye opener. We were correct and as part of our research we speculated he would take the CDXC supplements and expand them into Asia, which as of October was announced 5 months after our report.  As of November 13th the stock is up 77% in 5.5 months
The Trade Desk (TTD)– Written up in December 2016 at $27.40 per share many weeks after their IPO.  This advertising platform for the digital age caught our eye before the stock was popular. Just 11 months later the stock was trading at $66 for a near 144% return.
Straight Path Communications (STRP)–  We wrote up this spin off from IDT in July of 2015 when nobody had heard of them. They were holding 5G assets that we felt were undervalued like cheap real estate.  The company was the subject of a bidding war in May of 2017 and Verizon bought them out for $185 per share.  The report  was issued at $28 per share, resulting in a 600% Gain.
TelaDoc- TDOC-  We wrote this company up weeks after their IPO at $19.50 per share in 2017.  This company specializes in providing healthcare visits via Telephone and or Internet.  Our opinion was they were the leaders in a new revolution in cost savings and patient care and that their network of subscribers would make investors rich.  As of June 2017 the stock is trading at $34 per share and already since March this stock has appreciated 85% in 3 months. 
The above are just a few samples of our research at The Market Analysts Group, LLC.  This focus on fundamental analysis and cutting edge forecasting is what led our current Swing Trade subscribers at stockreversalspremium.com to urge us to work on more long term stock reports, hence the launch of TippingPointStocks.com
You can also review our Swing Trading Track Record here from our SRP subscription service